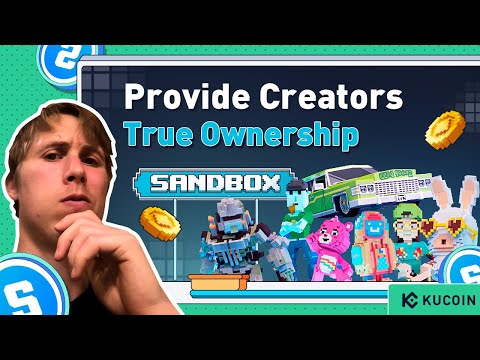 A walkthrough to the Sanbox and discover how creators and players are rewarded via participation in the game.
Subscribe to the KuCoin YouTube channel and discover more promising altcoins. https://www.youtube.com/c/KuCoinExchange
The Sandbox is a virtual world where players can build, own, and monetize their gaming experiences in the Ethereum blockchain using SAND, the platform's utility token. Our vision is to offer a deeply immersive metaverse in which players will create virtual worlds and games collaboratively and without central authority.
We are aiming to disrupt the existing game makers like Minecraft and Roblox by providing creators true ownership of their creations as non-fungible tokens (NFTs) and rewarding their participation with our utility token – SAND.
Check out the sandbox here
https://www.sandbox.game/en/login/?r=00di10_NSZDw8OGmF~JJ7
Time Stamp
00:54 What is Sandbox
01:27 Land overview
03:25 Platform demo
06:07 What is the token used for / tokenomics
7:27 Closing thoughts
Ready to start trading? Sign up for KuCoin and get 20% off Trading fees
https://www.kucoin.com/ucenter/signup?rcode=1v4H8bd
Disclaimer:
The content mentioned in this video is for informational purposes only. Nothing herein shall be construed to be financial, legal or tax advice. This channel is strictly educational and is not investment advice or a solicitation to buy or sell any assets or to make any financial decisions. Do your own research.