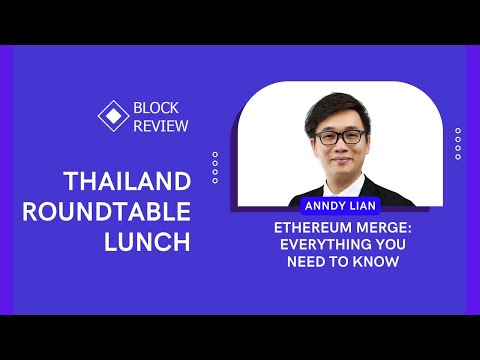 Block Review organised a roundtable lunch at Bangkok Thailand on 26 July 2022. 20 carefully selected guests were present at the event. The guest comprises of former minister, senior bankers and c-suite technology founders.
The roundtable aims to let stakeholders understand more about blockchain technology and how this can help with their businesses.
The event is closed door, held under the Chatham House Rule, participants are free to use the information received, but neither the identity nor the affiliation of the speaker(s), nor that of any other participant, may be revealed. Mr Anndy Lian who is based in Singapore is not able to attend the event in person, had his session recorded with the agreement of all the participants. Anndy Lian is an all-rounded business strategist in Asia. He has provided advisory across a variety of industries for local, international, public listed companies and governments. He is an early blockchain adopter and experienced serial entrepreneur, book author, investor, board member and keynote speaker.
Currently, he is appointed as the Chief Digital Advisor at Mongolia Productivity Organization, championing national digitization.
Prior to his current appointments, he was the Chairman of BigONE Exchange, a global top 30 ranked crypto spot exchange and was also the Advisory Board Member for Hyundai DAC. He also played a pivotal role as the Blockchain Advisor for Asian Productivity Organisation (APO), an intergovernmental organization committed to improving productivity in the Asia-Pacific region.
The topic of the roundtable is about Ethereum Merge: Everything you need to know.
The Merge represents the joining of the existing execution layer of Ethereum (the Mainnet we use today) with its new proof-of-stake consensus layer, the Beacon Chain. It eliminates the need for energy-intensive mining and instead secures the network using staked ETH. A truly exciting step in realizing the Ethereum vision – more scalability, security, and sustainability.
At the Ethereum Community Conference in France, Vitalik Buterin said that Ethereum is just 40% complete—and there's plenty more coming after the "merge." The Ethereum mainnet with the proof-of-stake beacon chain—is just the first in a series of planned upgrades.
Ethereum will then undergo further upgrades which he calls the "surge," "verge," "purge," and "splurge," he told the conference. These terms are no strangers to Ethereum followers.
Highlights of Etherem 2.0 (The Merge)
– Ethereum will move to a POS consensus when it merges with the Beacon Chain
– ETH2 is not a new asset. ETH in your wallet or exchange account will not be impacted.
– Ethereum's transition to POS will bring numerous benefits, including improved efficiency, scalability, and security, as well as reduced centralization